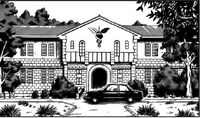 The Elmore Wood School superficially appears to function much like any other orphanage in existence today, despite the fact that is governed independently by its sole proprietor Elmore Tenjuin, a retired fortune-teller. Located in a scenic and idyllic destination situated near the coast, the enormous mansion and its grounds would be well suited to housing a great number of inopportune children, supported by Elmore's extensive and ample funds but the school is currently home to only five. This is because Elmore Wood only accepts admittance to children who possess PSI capabilities that negatively impact upon aspects of their lives, with the aim of providing them with a place of relative refuge, while these inexperienced youths are taught how to effectively control and correctly utilize their respective powers.
Residents
Edit
Ad blocker interference detected!
Wikia is a free-to-use site that makes money from advertising. We have a modified experience for viewers using ad blockers

Wikia is not accessible if you've made further modifications. Remove the custom ad blocker rule(s) and the page will load as expected.