Scourge (スカージ Sukaaji) is a group of W.I.S.E  under the command of Junas. They were successful in infiltrating Root with the help of Junas and Vigo. Each member of Scourge are a select group of psychicer that were able to survive undergoing a special Illumina Forge involving 2 cores, the subject only as a 0.1% chance of surviving making them all the elite of the elite. All members of Scourge have been killed in action.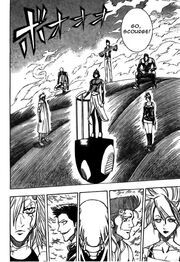 Ad blocker interference detected!
Wikia is a free-to-use site that makes money from advertising. We have a modified experience for viewers using ad blockers

Wikia is not accessible if you've made further modifications. Remove the custom ad blocker rule(s) and the page will load as expected.